About Letterkenny Community Centre CLG
Letterkenny Community Centre CLG is a local non-profit community centre located  in the heart of Co. Donegal. We offer a variety of facilities. Our gym is called the Workshop Fitness Suite. We have two flood-lit all weather artificial grass football pitches, a 7-a-Side Astro Turf pitch and a Full Sized 3G Astro Turf Pitch. A number of different exercise classes are on offer. Keep us in your children's birthday party ideas as we can offer both indoor and outdoor ideas with our own bouncy castle etc. and our Astro Turf Pitch. We offer many different halls and rooms for hire which can be used as function rooms, event halls and much more. We offer Kids Gymnastics and Junior Soccer training. We run a weekly carboot sale every Saturday. There is a lot more on offer at Letterkenny Centre CLG, have a browse of this site for more details.
Rebranded Quarterly 50/50 Fundraising Raffle
We are rebranding our Quarterly 50-50 Raffle going forward. There will be two major changes going forward:
1. The draw will now be a physical draw rather than use Googles Random Number Generator on the computer. From the next draw forward we plan to write each ticket onto a piece of paper and draw one from a box.
You can still enter as many times as you like and each ticket will be one separate entry into the box. So buy as many as you wish.
Membership holders will still be entered as one separate ticket for each ticket they have that quarter. I.e a Yearly ticket holder whose membership does not run out during this quarter will get 18 separate entries. If a member has two months left this quarter they will get 12 and they will get six if they have a single month left.
2. The Draw will now take place on Sundays instead of Saturdays to coincide with an event we are hoping to have on that date that is yet to be announced.
Tickets still cost €2 each or 3 for €5.
Memberships Still cost €50 for 6 months of €100 for a year.
Tickets and memberships can still be bought at reception or here on our website:
If you're not win you can't win. Best of luck to all who enter.
Letterkenny & District Christmas Annual On Sale now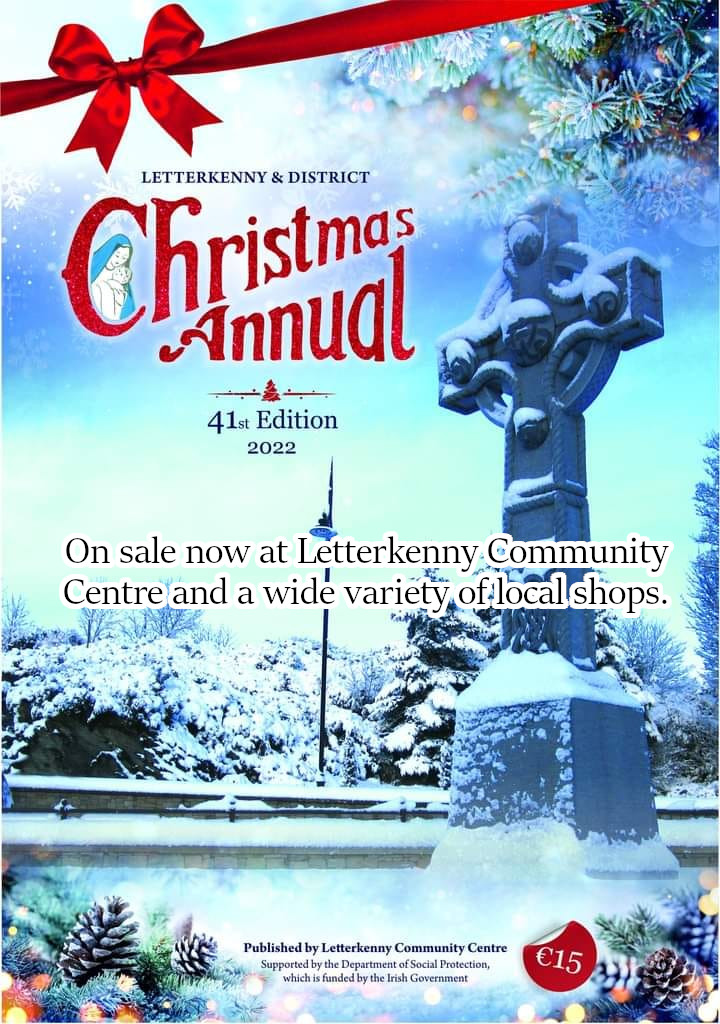 Fundraising Easter Craft Fair - March 26th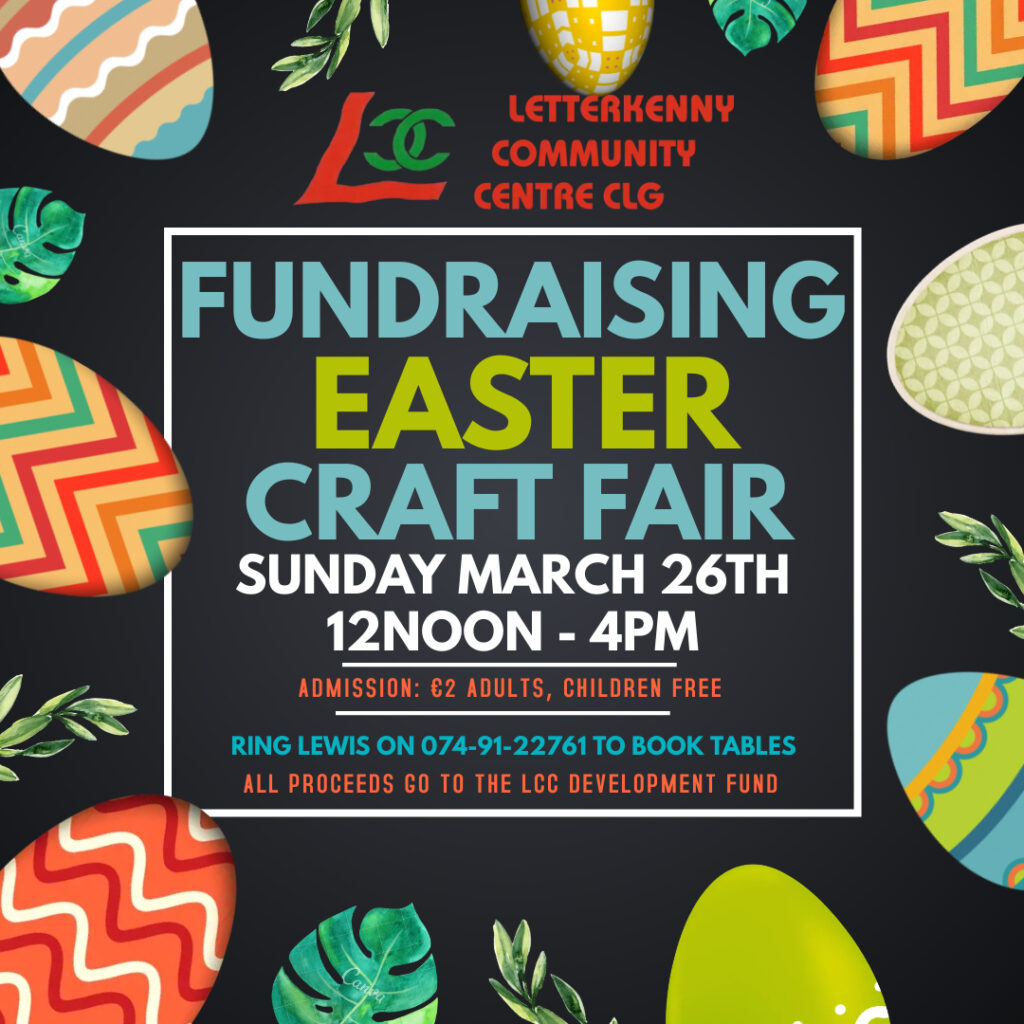 Come down to Letterkenny Community Centre on the 26th of March and enjoy our Easter Craft Fair. We should have something for everybody to enjoy including children and adults of all ages.
If anybody is looking to book tables. If you write to the
Letterkenny Community Centre Facebook page
with your craft and phone number and I will pick it up and call back next time I am in the office, or ring within my office hours. It is preferable you get talking to me. My hours are as follows:
Monday: 10:30am-4:30pm
Tuesday: 3:00pm-10:00pm
Friday: 8:30am-2:00pm
-Lewis Letterkenny Community Centre
Needs Your Help
The present management are committed to provide for the future. They intend with your support, to add an extension to the building so that the present prefabs can be demolished and accommodated into the new building.
Help us to develop your centre, your needs for the next generation.